Cheesy Potato Ham & Broccoli Soup.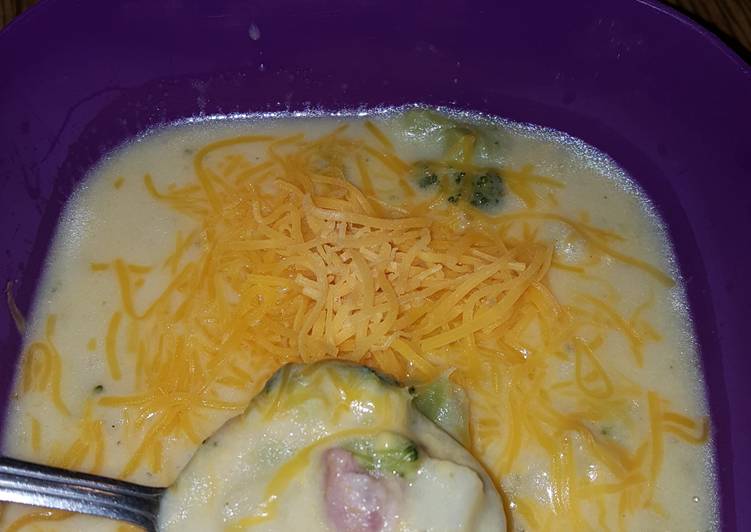 You can have Cheesy Potato Ham & Broccoli Soup using 13 ingredients and 7 steps. Here is how you cook it.
Ingredients of Cheesy Potato Ham & Broccoli Soup
You need of Veggies.
Prepare 3 of potatoes, peeled & diced.
You need 2 cup of chopped broccoli - I used florets.
Prepare of meat.
It's 1 cup of chopped ham.
You need of Dairy.
You need 3 cup of Shredded cheddar cheese.
It's 2 cup of Milk or Heavy Cream- I used 2% to lighten this recipe up.
It's 5 tbsp of Butter.
It's 5 tbsp of flour.
It's 4 cup of chicken broth.
You need of Seasonings.
It's of Pepper, garlic, onion powder- I omitted salt due to the ham. If u choose to not use ham or meat, salt may be needed.
Cheesy Potato Ham & Broccoli Soup step by step
Peel & cut up Potatoes to desired size, then toss in your crockpot.
Melt butter in large pot or Dutch oven, then add flour. This needs to be on med-high & stir constantly.
Flour will appear chunky & clumpy. Perfect! Fry 4-6min, still stirring!.
Now you need to add 3 cups of HOT chicken broth & whisk whisk whisk that flour! Then add 1 & 1/2 cups of the milk or cream. Reserve the other 1 cup of broth & 1/2cup milk.
Pour the mixture over the potatoes once it's cooked about 10min on medium. Then add the cut ham, over mixture.
Add cut up broccoli to crockpot. I used remaining milk & broth to make sure broccoli was covered with liquid. Stir mix & cover. Low4-6hrs, High 2-3..
Add cheese during the last 30min. I did 2 heaping cupfuls, then added the rest to each bowl. Yum!.